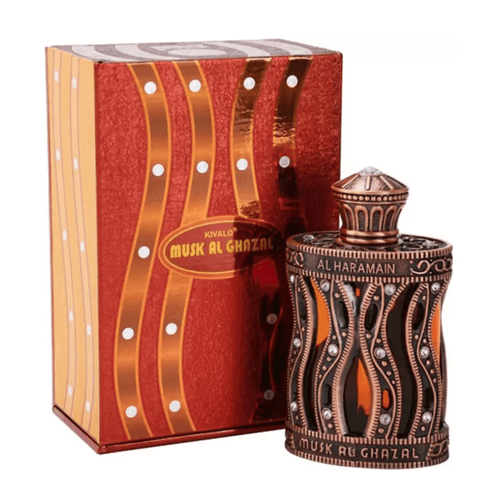 Al Haramain Musk Al Ghazal
Price:

৳ 2,900.00

Ex Tax: ৳ 2,900.00
Haramain Musk Al Ghazal by Al Haramain Perfumes Highly Concentrated, 100% Original & Alcohol Free, Long Lasting Elegant Fragrance.
They say musk and love can never be concealed. Of course it's something you're not bothered about. You flaunt your love with unabashed glee & spread cheer with this romantic aroma. There's one thing common to you and 'Musk Al Ghazal'. You're both infectious and cannot be kept away from the spotlight!
Recommended for Men and Women (Unisex). Gift the loved ones with the pure fragrance of love.
Fragrance Notes:
Top note: Aldehyde, Raspberry
Middle note: Rose, Geranium, Orris, Jasmine
Base note: Musk, Leather, Sandalwood
Specification
Type: Perfume Oil
Capacity: 30ml
100% Alocol Free (Attar)
Write a review
Your Name:
Your Review:
Note: HTML is not translated!
Rating: Bad Good
Enter the code in the box below: