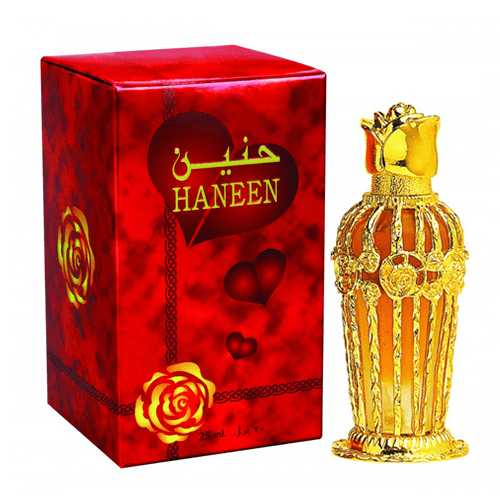 Al Haramain Haneen
Price:

৳ 3,000.00

Ex Tax: ৳ 3,000.00
Haramain Haneen by Al Haramain Perfumes Highly Concentrated, 100% Original & Alcohol Free, Long Lasting Elegant Fragrance.
When life reaches out and takes you on an unpleasant ride and your bridge of dreams comes tumbling down don't let your moment of sorrow ever conquer your pride. Remember there's always a way out. The invigorating fragrance of Al Haramain's Haneen will get you back on track, back in action. Get yourself Haneen and you will show yourself how to smile.
Recommended for Men and Women (Unisex). Gift the loved ones with the pure fragrance of love.
Fragrance Notes:
Top note: Geranium, Lemon, Rose, Ylang Ylang, Bergamot, Mango, Plum, Pine, Milk
Middle note: Cedarwood, Rose, Ginger, Cinnamon, Saffron, Jasmine, Ylang Ylang, Sandalwood
Base note: Sandalwood, Amber, Patchouli, Musk, Gurjum Balsam, Gaiac wood, Agarwood, Cypriol, Vanilla, Cedarwood
Specification
Type: Perfume Oil
Capacity: 25ml
100% Alocol Free (Attar)
Write a review
Your Name:
Your Review:
Note: HTML is not translated!
Rating: Bad Good
Enter the code in the box below: