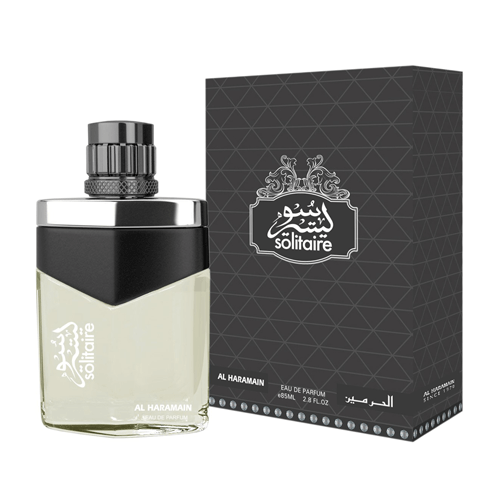 Al Haramain Solitaire Eau De Parfum Spray
Price:

৳ 3,200.00

Ex Tax: ৳ 3,200.00
Haramain Solitaire Eau De Parfum by Al Haramain Perfumes Highly Concentrated, 100% Original, Long Lasting Elegant Fragrance.
Amid the dense and tumultous crowds, be the unmistakable mark of distinction with Solitaire from Al Haramain. A fragrance that is clear, polished and unique, with harmonious citric, spicy, leathery and woody accords, settled with the sensual depth of tobacco and patchouli to give you a scent that is as previous as a jewel that stands above the rest.
Get People Attracted By Wearing This. Recommended for Men and Women (Unisex). Gift the loved ones with the pure fragrance of love.
Fragrance Notes:
Top note: Bergamot, Lemon, Cumin
Middle note: Leather, Cedar wood, Sandalwood
Base note: Tobacco, Patchouli
Specification
Type: Eau De Parfum
Capacity: 85ml
Write a review
Your Name:
Your Review:
Note: HTML is not translated!
Rating: Bad Good
Enter the code in the box below: