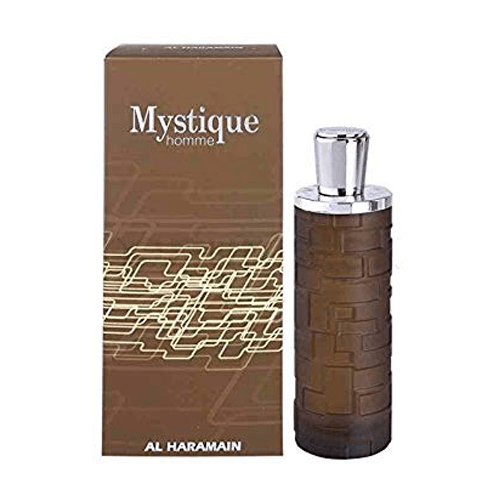 Al Haramain Mystique Homme Eau de Parfum Spray
Price:

৳ 2,650.00

Ex Tax: ৳ 2,650.00
Haramain Mystique Homme Eau de Parfum by Al Haramain Perfumes Highly Concentrated, 100% Original, Long Lasting Elegant Fragrance.
There will be leaders and there will be heroes. While you know you can't grab the most important role all the time, no one can stop you from being the scene-stealer, nevertheless. Silent sophistication is the name of the game. Authentically pleasant and effortlessly charming, that is what Al Haramain Mystique Homme Spray 100ml is. Coupled with this beautiful fragrance, even your minimalist but sincere exploits will have audiences everywhere rooting for you.
Recommended for Men and Women (Unisex). Gift the loved ones with the pure fragrance of love.
Fragrance Notes:
Top note: Bergamot, Elemi, Orange, Lavender
Middle note: Jasmine, Orange Blossom, Mint Leaves
Base note: Musk, Tobacco, Gaiac wood
Specification
Type: Perfume
Capacity: 100ml
Write a review
Your Name:
Your Review:
Note: HTML is not translated!
Rating: Bad Good
Enter the code in the box below: